0782 Bing Cha
Brand & Factory : Dayi, Menghai Tea Factory | Type : Sheng/Raw | Vintage Year : 2007
0782 tea cake is one of Menghai Tea Factory's latest addition to its family of raw tea cakes. This formula was introduced in 2007 and it uses 8th grade tea leaves harvested from Menghai County as its main ingredient. The tea has strong fragrance and taste. A good buy if you like to collect and age raw tea cakes.
Actual Product Image (click to enlarge

)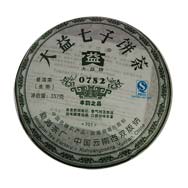 Reviews & Ratings
No review for this 0782 Bing Cha yet...

If you have purchased this tea before and wish to review it, please login to your account and click on the Review & Rate item link.