9081 Fu Lu Yuan Bing Cha
Brand & Factory : 9081 Sheng Shi Zhong Cha, Yunnan Branch China Tea Import and Export Co. Ltd. | Type : Sheng/Raw | Vintage Year : 2007

(rating: 4.8 out of 5)
Fu Lu Yuan Bing Cha is one of the seven tea cakes in 9081 Sheng Shi Zhong Cha (9081 Prosperous Times) tea cake series. This series is Yunnan Tea Import and Export Co. Ltd's year 2007 flagship product and was compressed using high quality tea leaves from Xi Shuang Banna area.

*The Tong (i.e. bundle of seven tea cakes) is comprised of seven different tea cakes in the series:

9081 Fu Lu Yuan Bing Cha (Fortune Round)
9081 Hong Lian Yuan Bing Cha (Red Lotus Round)
9081 Hong Xin Yuan Bing Cha (Red Heart Round)
9081 Zhong Cha Hong Yin Bing Cha (Red Seal)
9081 Zhong Cha Huang Yin Bing Cha (Yellow Seal)
9081 Zhong Cha Lan Yin Bing Cha (Blue Seal)
9081 Zhong Cha Lu Yin Bing Cha (Green Seal)
Actual Product Image (click to enlarge

)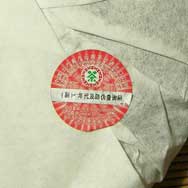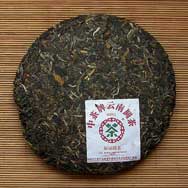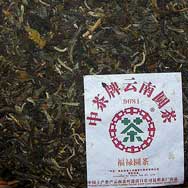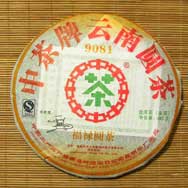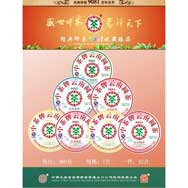 Reviews & Ratings
Giving this one 5 stars for the price/quality ratio. Thick tea liquid. Easily 10 solid infusions at 7g/150ml. Deep orange colored infusions. Sweet, well rounded, relatively complex flavor and aroma. A great everyday tea.


asaf (12/5/2012)

Un excellent thé pour un prix très modique! Saveur fraîche et douce... Arôme savoureuse


Ricardo (2/17/2012)

I just taste a litlle bit: Woodland flavours, fish , quinquina (!) But this one must to be older, older,older.....like a Romanée Conti wine!! Robert from France


Robert (8/18/2008)

Nice puer! Even though it's very young it tastes good. A bit strong and bitter, but with a broad and deep taste, and a lovely sweetness. I think this cake will become really great in a few years.


Oskar (3/16/2008)


If you have purchased this tea before and wish to review it, please login to your account and click on the Review & Rate item link.
Item(s) : 0
Your shopping cart is empty