Boyou 7262 Bing Cha
Brand & Factory : Boyou Tea Production Co. Ltd. | Type : Shu/Cooked | Vintage Year : 2005

(rating: 4.8 out of 5)
This tea cake is created based on Menghai Tea Factory's 7262 formula and further enhanced by Boyou's processing method. The cake was compressed in year 2005 using 6th grade Pu'er tea leaves that had already been aged for 2 years (2003). Because of this, you can expect a smoother, sweeter and mellower tasting tea.
Actual Product Image (click to enlarge

)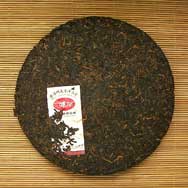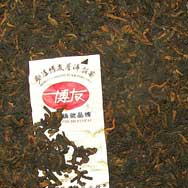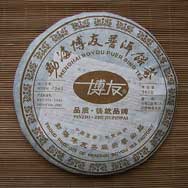 Reviews & Ratings
This tea was very good. It brewed up to a nice amber color, not too dark, not too light. It was sweet with a flavor much like either dates or apricots, but not quite. There was no bitterness or off taste. The tea cake was in perfect condition and wrapped to survive the Pacific crossing in heavy duty plastic.


Allan (7/10/2013)

I received my order in a very perfect condition and on time. The only unliked was a black sticker of Royal Puer sticted in front of it. I want to show it on the shelf. So next time please place your sticker behind the product.


Chanida (3/4/2013)

I´ve tasted about 6 decent ripe pu´s now and I think this is my favourite. It is pretty rich, only needing a few seconds to brew for the first four or five brews and with longer brewing will go on for many more servings. It is smooth yet solid tasting. I could drink this by the gallon!


Thomas (9/2/2008)

wonderful dark mellow infusion


Fred (11/10/2007)

This shu pu'er is remarkable. I ordered a sample, and having tasted it, I *had* to order a full cake. ~geraldo


Gerald (10/27/2007)


If you have purchased this tea before and wish to review it, please login to your account and click on the Review & Rate item link.
Item(s) : 0
Your shopping cart is empty