Cai Fu Guang Chang Bing Cha
Brand & Factory : Boyou Tea Production Co. Ltd. | Type : Sheng/Raw | Vintage Year : 2007

(rating: 4 out of 5)
Cai Fu Guang Chang, which means "Wealth Square", features the image of the Bank Of China building in Hong Kong in its wrapper. This extra large 500 grams tea brick is compressed using early spring tea leaves that are harvested from high mountain areas in Menghai (1600 meters above sea level). It recently won the the 1st China Famous Tea Master Tasting Award Gold Award (Chuan Guo Shou Jie Ping Ca ShiMing Cha Ping Bi). A cert containing the photos of the awards is provided (together with an easy-carry box) when you purchase the "Box of 2 cakes" option. This tea cake is compressed using tea leaves from 2006.
Actual Product Image (click to enlarge

)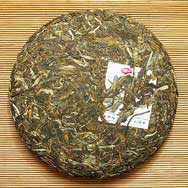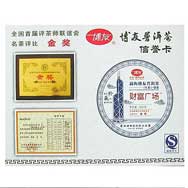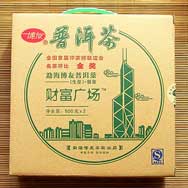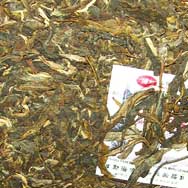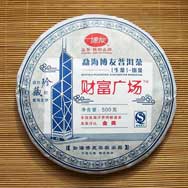 Reviews & Ratings
Nothing outstanding to recommend or dis-recommend about this one. There is some ku, but not enough to really hold up for aging. A very average Puer.


Carla (2/9/2010)

Big aromatic leaves. Infusions are smooth, bitter-sweet, and has nice aromas. Good cha-qi for aging.


Mike (4/20/2009)


If you have purchased this tea before and wish to review it, please login to your account and click on the Review & Rate item link.
Item(s) : 0
Your shopping cart is empty