Ge De Bao Hao Shu Bing Cha
Brand & Factory : Yi Bang Cha Ma Si Tea Industry Co. Ltd. | Type : Shu/Cooked | Vintage Year : 2006

(rating: 4.3 out of 5)
The full name of this tea is actually Ge De Bao Hao Fang Wen Guang Zhou Li Xie Shu Bing Cha, which means "Commemoration of Gotheborg's visit to Guang Zhou; Cooked Pu'er Tea Cake". The tea leaves are harvested from Bu Lang Shan, one of the highest mountains in Simao areas in Yunnan province. We highly recommended this tea cake to collectors not only for its beautiful wrapper painting, but also because the production of this tea cake is limited to 30,000 pieces only.
Actual Product Image (click to enlarge

)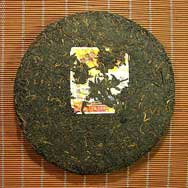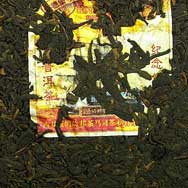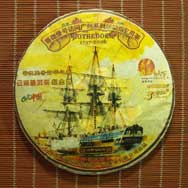 Reviews & Ratings
This review was done in December of 2015, so adequate time for aging. This tea displays a unique non Pu´re taste with a mildly bitter green tea leaf flavor. The bitterness is in the background and is not overpowering, but present and lingers with a slight aftertaste. The classic Pu´re aroma is absent, replaced with a light green tea scent. Overall pleasant, and drinkable. Will be most appreciated by green tea enthusiasts´ and those that find a classic Pu´re taste less attractive.


David (12/26/2015)

The product packaging is very beautiful and smell very good. But unliked a black Royal Puer sticker sticked in front of it


Chanida (3/4/2013)

Nice bakey, leathery aroma. Has the interesting, clean flavours of its sister, the Menghai shu, but is richer, sweeter, fuller. Really, this is a great buy and a worthy match for the Ge De Bao Sheng.


Robert (3/4/2007)


If you have purchased this tea before and wish to review it, please login to your account and click on the Review & Rate item link.
Item(s) : 0
Your shopping cart is empty