Jin Si Gong Bing Cha
Brand & Factory : 9081 Sheng Shi Zhong Cha, Yunnan Branch China Tea Import and Export Co. Ltd. | Type : Sheng/Raw | Vintage Year : 2007

(rating: 5 out of 5)
The name "Jin Si Gong Bing" means "Gold Ribbon Tribute Tea Cake". A gold ribbon was compressed together with the tea leaves, indicating the use of high quality material in the production of this tea cake. The liquor it yields has a strong aftertaste which is remarkable and lasting.
Actual Product Image (click to enlarge

)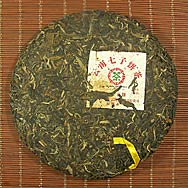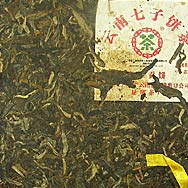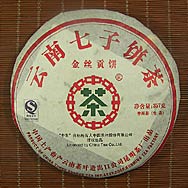 Reviews & Ratings
I have just made my first infusion in a Gaiwan. Colour was nice and clear like a piece of amber Lasting astringency, no bitternes though, slightly sweet after taste. Flavour? A tarry plus a very faint lychee. After 5 minutes I have experienced strong bodily heat moving in all directions from my lower back. Second infusion was much the same. Strong body heat. Price is good. I miss a description. From which area were the leaves picked up, during which season? Regards to all Puer fans and Happy New Year 2012 Tomaz Janez Marolt


tomaz nanez (12/31/2011)


If you have purchased this tea before and wish to review it, please login to your account and click on the Review & Rate item link.
Item(s) : 0
Your shopping cart is empty