Kong Que Zhi Xiang Qi Zi Bing Te Ji Pin Cha
Brand & Factory : Ba Jiao Ting, Li Ming Tea Factory | Type : Shu/Cooked | Vintage Year : 2005

(rating: 4 out of 5)
This tea cake is named after Menghai County's nickname, Kong Que Zhi Xiang, which translates to "Village of Peacock". Printed on the middle of the wrapper is four Chinese characters - "Yue Jiu Yue Chun" meaning that the older the Pu'er the gets, the more mellow it becomes. This is a special grade product as indicated by the label just below the Chinese characters that reads, "Te Ji Pin".
Actual Product Image (click to enlarge

)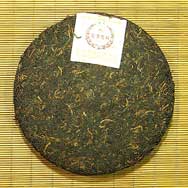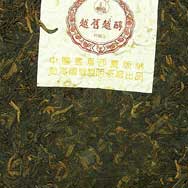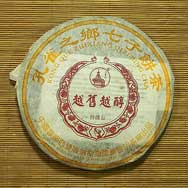 Reviews & Ratings
Very impressed.Ive drank nothing but this since it arrived 2 weeks ago.


andrew (6/7/2007)

Quite high-grade. Lovely mushroom aroma, almost truffly. Clean, rather bright flavour. If it were a touch richer and sweeter, I'd buy a tong at the price. This cake could be perfect for those who prefer a refined, medium-bodied shu.


Robert (2/22/2007)


If you have purchased this tea before and wish to review it, please login to your account and click on the Review & Rate item link.
Item(s) : 0
Your shopping cart is empty