V93 Tuo Cha
Brand & Factory : Dayi, Menghai Tea Factory | Type : Shu/Cooked | Vintage Year : 2009

(rating: 4.7 out of 5)
First of all, V93 does not mean vintage year 1993, but rather the recipe which was used in making this tuo cha was invented in year 1993. This recipe is now regarded as the standards of perfection for Menghai's Dayi brand of tuo cha. While much of the details are kept secret, the basic principle is to reduce the post fermentation process, resulting in a very aromatic tea with a smooth mouthfeel. This tea won first prize in the 13th Shanghai National Tea Culture Competition in 2006.
Actual Product Image (click to enlarge

)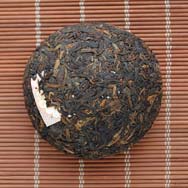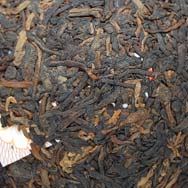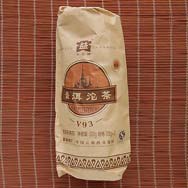 Reviews & Ratings
напоминает прессованный красный чай. Достаточно много кофеина. Листья хорошо отделяются друг от друга. Заваривается ~4 раза.


Vitaly (12/25/2013)

Higher than all praises! Required item in stock! =)


Alex (10/19/2011)

It is a nice shu but maybe too young to find it special. Ok for daily drinking.


Esteban (9/1/2011)

A really good cooked puer. I like to drink it without anything but I tried and it is also fantastic with milk and honey.


Laszlo (7/14/2011)

very good has a lot of leather and cherry. also has alot of spice notes on the finish. could go well with spicy food.


david (1/21/2010)

I really love this tuo cha. The flavor is wonderful and it produces more than the usual number of infusions.


Gerald (4/1/2007)

Superb and complex flavor for a cooked pu-erh! The taste reminds me of Coca tea. I have ordered tons of cooked pu-erh and for the price, this is probably my favorite. Highly recommended.


Brian (12/29/2006)


If you have purchased this tea before and wish to review it, please login to your account and click on the Review & Rate item link.
Item(s) : 0
Your shopping cart is empty